Let DASpedia Help Find Your Next Talent!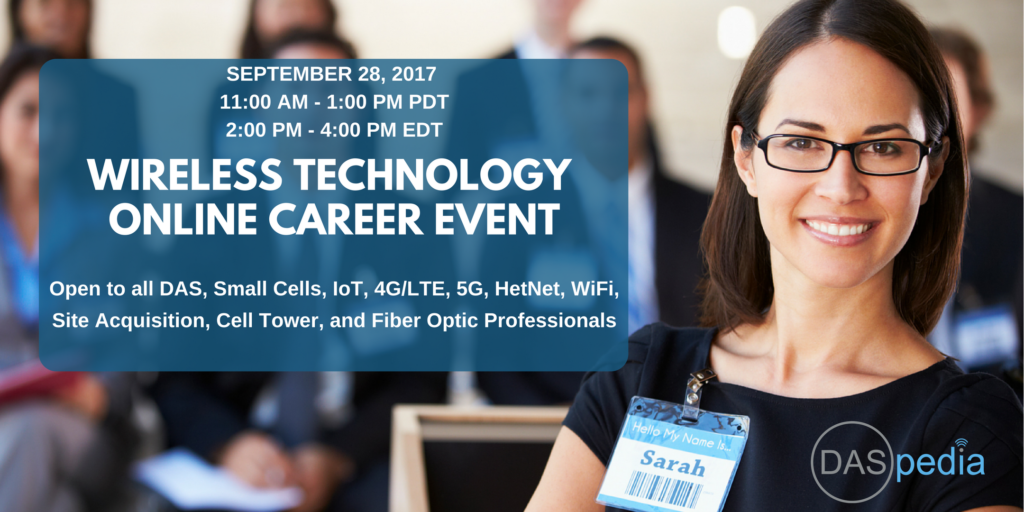 Attendees to our online career event are veteran wireless & telecom professionals represent various segments of our industry and bring a quality set of skills and experiences including but not limited to RF Design & Engineering, Sales & Marketing, Site Acquisition, Project Management, Tower Maintenance, Administrative, and C Level Management.
Targeted Audience
DASpedia maintains a database of hundreds of companies and thousands of professionals involved in the wireless technology industry.
Tailored Lists
We'll help you deliver your message to the right people. We have individualized target lists of RF & Design Engineers, Sales & Marketing Professionals, C-Level Executives, Site Acquisition Specialists , Tower Professionals, and Project Managers.
Quality Candidates
DASpedia's core community of thousands of experienced, competent DAS & Small Cell professionals are ready and waiting to hear about your unique career opportunities.
Participating Companies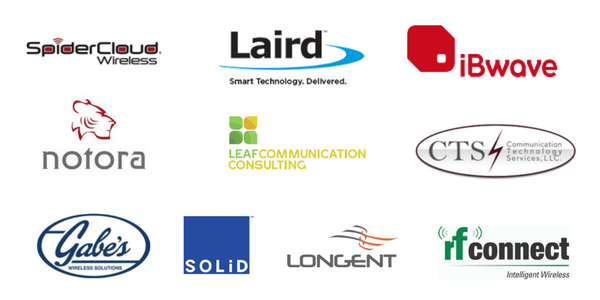 Examples of Open Positions:
Business Development Manager – Northwest/Nationwide
Mechanical Engineer – Manchester, NH
Quality Technician – Schaumburg, IL
Project Manager – Cedarburg, WI or Akron, OH
Territory Sales Manager – Home Office / Remote
Linux Software Engineer – Akron, OH
Inside Sales Rep – Schaumburg, IL
Associate RF Engineer – Rockledge, FL
Sr. RF DAS Engineer – Rockledge, FL
RF Technician – Rockledge, FL
Electrical Engineer – Rockledge – FL
RF Engineer – Alpharetta, GA
Marketing Assistant – Los Angeles, CA or Remote
Project Manager – Nationwide
Director of Wireless Implementation – Raleigh, NC
DAS Quality Manager – Raleigh, NC
Project Manager – Raleigh, NC or Knoxville, TN
DAS Installer – Raleigh, NC & Knoxville, TN
Sr. QA Engineer – Milpitas, CA
Sr. Automation Engineer – Milpitas, CA
Software Development Manager – Milpitas, CA
Dir, Systems Eng & Advanced Tech Dept – Milpitas, CA
Sr. Wireless Software Engineer – San Diego/Milpitas, CA
Sr. Software Engineer – Milpitas, CA
Project/Program Manager – Milpitas, CA
Why should your company participate in our event?
Easy. Save on time and recruiting expenses. We'll bring quality candidates straight to you. DASpedia maintains the largest database of wireless industry professionals specializing in RF, DAS, Small Cell, IoT, 4/5G, LTE, HetNet, WiFi, Site Acquisition, Cell Towers, and Fiber Optic. We are a trusted, recognized brand name in the wireless industry. Our regional events attract top notch professionals and we're ready to connect them to you. Engage in one-on-one, timed chats with participating candidates and fill your positions quickly and efficiently.
Virtual Recruiting Booth
Sep 28, 2017 - 11:00 am PDT I 1:00 pm EDT
1 Virtual recruiting booth at DASpedia's Virtual Wireless Tech Career Event

Includes up to 5 virtual recruiter passes for your booths

Eligible to post up to 7 open positions during single online event

DASpedia's virtual career event requires no special software installment

Full access to attendee list and candidate resumes.

Chat transcripts with potential candidates are accessible up to 6 months after the event.

Your open positions are also posted on DASpedia.com career page

Comprehensive event report of your booth activity which includes number of active participants, representatives, active chats hosted at your booth and number of completed chats with candidates and their information.
RF Engineers & Designers
Our list includes over 1000 RF professionals. The majority of these RF professionals are employed with Wireless Carriers, Defense Contractors, OEMs, Design Firms, and System Integrators.
Sales & Marketing Professionals
We have carefully tailored list of Sales & Marketing professionals, individuals with years of experience in technical sales. The majority of them have expertise working for Original Equipment Manufacturers (OEMs) and direct contacts with US wireless carriers and defense contractors.
C Level Executives
C-Level executive contacts from major US wireless carriers, OEMs, System Integrators and telecommunication firms are all available through DASpedia.
Admin and Labor
There are thousands of professionals working in the wireless industry, including laborers, iBwave certified designers, and administrative level professionals in various capacities. DASpedia is the way to reach them.
Site Acquisition, Tower Professionals and Project Managers
We maintain contacts of individuals working for System Integrators, Tower Companies and General Contractors. These individuals have experience in implementing a wide variety of DAS/Small Cell and other wireless projects.