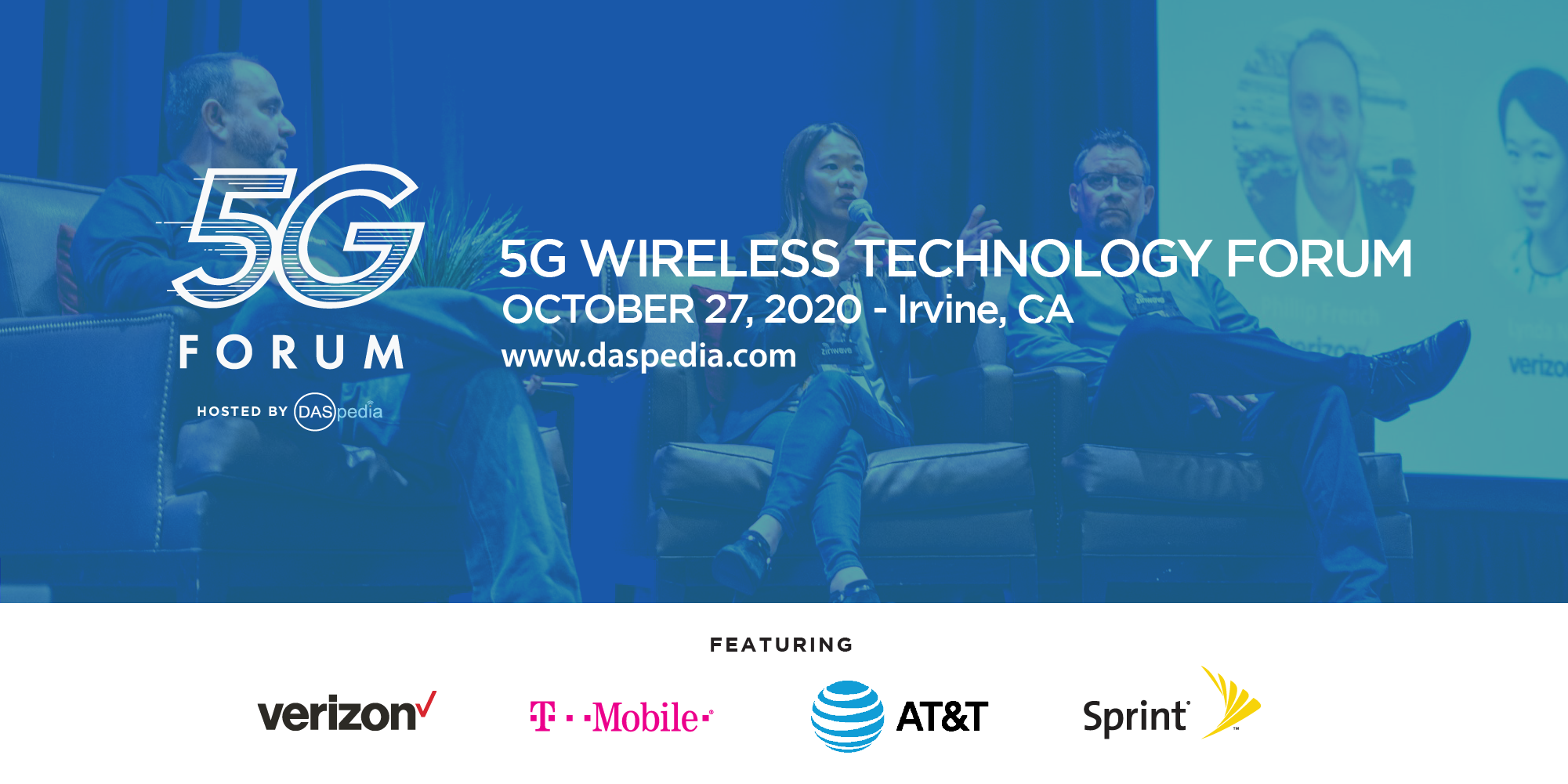 What is the 5G Forum?
DASpedia is back in the Orange County area to host its 3rd Annual 5G Wireless Technology Forum on October 27, 2020. This event highlights the development, planned, and existing deployments of 5G wireless technology by US Mobile Network Operators (MNOs). The event will bring together professionals involved in wireless network infrastructure (DAS, Small Cells, Macro Networks, etc…) from Northern California and nationwide.
It will be held at the Irvine Marriott hotel in Irvine, CA. This is a convenient location for local MNO attendees and industry professionals interested in learning about 5G wireless technology and connecting with fellow professionals.
DASpedia's 5G Wireless Technology Forum speakers are invitation only representatives from Verizon Wireless, T-Mobile, Sprint, and AT&T. The event will include attendees from all major US Mobile Network Operators (MNOs).
Let's Learn, Share, and Prosper!
Who, When, Where?
The attendance of DASpedia's 5G Forum will include:
US Mobile Network Operator (MNO) Local and National Teams
Wireless Technology Solution Providers
Enterprise Customers
Date: October 27, 2020  |  Time: 9:00 am – 7:30 pm
Location: Irvine Marriott – Irvine, CA
MORNING WORKSHOPS | OCTOBER 27, 2020 – Pleasanton / Danville Room
Morning Workshops are Open to All Registered Attendees
8:30 AM: NETWORKING BREAKFAST – sponsored by ADRF
9:00 AM: ADRF
9:30 AM: COMMSCOPE
10:00 AM: SOLiD
10:30 AM: BTI Wireless
AFTERNOON / MAIN PROGRAM | OCTOBER 27, 2019 – Bishop Ranch Ballroom
10:30 AM: EXHIBITS OPEN
11:30 AM – 12:50 PM: NETWORKING LUNCHEON sponsored by Leaf Communications 
1:00 PM – 1:10 PM: 5G Forum Opening by DASpedia hosted by Tony Schaffer I HALO
1:15 PM – 1:35 PM: Opening Keynote Presentation by Manisha Patel I Verizon Wireless
1:40 PM – 2:00 PM: Presentation by Cheryl Keeler I Sprint
2:05 PM – 2:45 PM: mmWave Presentation by Dennis McColl I Verizon Wireless
2:50 PM – 3:40 PM: Networking/Vendor & Refreshment Break
3:45 PM – 4:05 PM: In-Building 5G NR Presentation by Keith Martin I Verizon Wireless
4:10 PM – 4:20 PM: Presentation by Tamara Chamberlin I T-Mobile
4:25 PM – 4:45 PM: Panel Discussion – Tamara Chamberlin, John Hill, Todd Wheeler I T-Mobile
4:50 PM – 5:30 PM: Panel Discussion – Chris Meyer, Amit Shah, Martin Cassidy I moderated by Tony Schaffer I HALO
5:30 PM – 7:30 PM: Networking Reception sponsored by SunWest Engineering 
Contact Us to Become a DASpedia Sponsor
Thank You to our DASpedia 2020 Sponsors, Exhibitors, and Members!