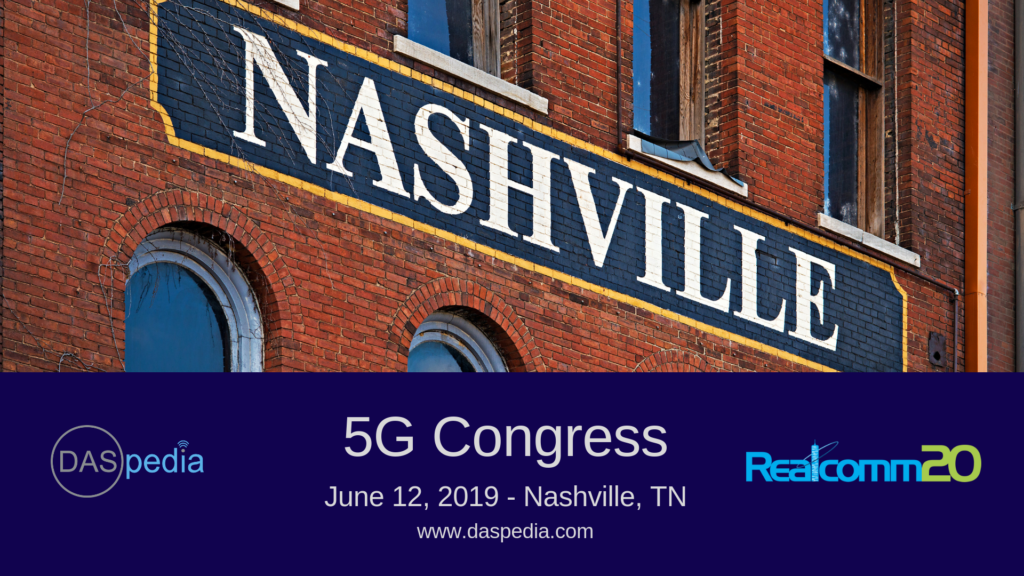 January 14, 2019
Camarillo, CA – DASpedia, a leading in-building wireless technology ecosystem and training firm, is announcing the creation of a 5G Congress event. DASpedia entered into a strategic partnership agreement with Realcomm Conference Group, organizer and host of the largest Commercial and Corporate Real Estate and Facility Industry event in the US. DASpedia's 5G Congress will be co-located with Realcomm | IBcon 2019 in Nashville, TN and function as one of its official pre-conference events.
"We are proud of the growth we've experienced in the last 4 years and are excited to introduce our ecosystem of wireless technology professionals to the potentially explosive market offered by the Corporate and Commercial Real Estate industry as a result of our partnership with Realcomm," stated Nandia Bay, Managing Partner at DASpedia. "This 5G Congress is another example of DASpedia's continuing innovation and goal to provide added value to our sponsors, members, and wireless industry professionals."
DASpedia 5G Congress attendees are also invited to join Realcomm | IBcon 2019 and can secure discounted admission deals through the DASpedia 5G Congress event page starting on January 25, 2019. DASpedia's annual sponsor and member companies can also acquire exhibit space in the 5G Technology Pavilion at Realcomm | IBcon 2019.
"We are excited to partner with DASpedia," said Jim Young, co-founder and CEO of Realcomm. "DASpedia will contribute to the educational aspects of the conference, sharing best practice strategies and proven business solutions of their in-building wireless technology professionals. We are seeing the wireless industry go through waves of growth as the technology evolves from one generation to another. In this case, our sector is eager to learn about the upcoming 5G technology and have access to the thought leaders of the in-building cellular wireless industry as a result of our partnership with DASpedia."
DASpedia's 5G Congress will be attended by executives of all major US wireless carriers and representatives of wireless technology solution providers. All professionals of the Commercial and Corporate Real Estate industry are invited to join the event. For more information or inquiries please visit https://daspedia.com
About DASpedia
DASpedia is conceived and created to facilitate connections and interchange within the various segments of the In-Building Cellular Wireless Technology industry: from designers, engineers, technicians and their support teams to suppliers and manufacturers and everyone in between. It is a place to share ideas, meet talented individuals, research new products/technology, discover new opportunities and keep up-to-date with the current happenings in the wireless world.
A Southern California company since the summer of 2014, DASpedia consists of experienced, knowledgeable staff. For more information visit https://daspedia.com or follow DASpedia on Twitter at @DASpedia.
About Realcomm Conference Group
Realcomm Conference Group, LLC is the leading research and educational institution that produces annual conferences and expositions on technology, automated business solutions and intelligent buildings strategies for executives in commercial, corporate, government and institutional real estate. Realcomm was founded in 1999 with the goal of bringing industry leaders together each year to discuss, demonstrate and debate the latest innovations impacting the industry. Today, in addition to their annual Realcomm, IBcon and CoRE Tech conferences, they conduct webinars, workshops and other strategic services to educate industry professionals on business solutions and smart building technologies that will improve how we design, build, lease, operate, transact and use real estate.
Contact
Richard Melendez
+1 (310) 845-6458